---
Recently, more and more customers have asked "what kind of fabric is cotton interlock?" In fact, cotton interlock refers to double-sided fabrics woven from pure cotton yarns,or would be understood as double-sided knitted fabric, also known as cotton-pile fabric.Because the front and back of the fabric are almost the same outlook,it is also called "double-sided fabric". The composition is generally 100% cotton. There are also polyester-cotton blends, but relatively few applications.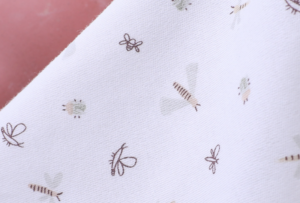 Cotton interlock is widely used,and its performance is body-comfort and warm-keeping.It has greater elasticity and extensibility,more breathable and smooth,which is mostly used in baby clothes,baby bibs,etc.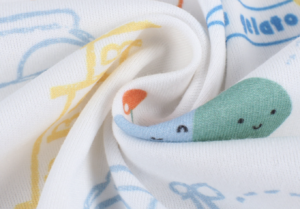 Interlock fabrics in a broad sense also include rib knitted fabrics,which are knitted fabrics in which a single yarn forms stitches on the front and back in turn.Common ones are 1+1 rib,2+2 rib,and spandex rib.Rib knitted fabrics have the detachability,hemming and extensibility of plain weave fabrics, but also have greater elasticity. The excellent elasticity of rib fabrics is used to make shirts,trousers necklines,cuffs,hem,etc.,as well as for sewing singlets, vests, sportswear and stretch shirts.
Our company currently uses high-quality 42'S pure cotton yarns,both printing & solid color,which is used in children's sleeping bags,rompers,hats,bibs,burp clothes and other intimate clothing.
---